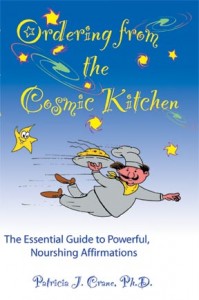 Patricia J. Crane's mission to empower people worldwide with the inner resources and outer skills they need to achieve their dreams just got easier.
The long awaited unabridged and fully illustrated eBook version of Ordering from the Cosmic Kitchen is now available at the Amazon.com Kindle Store.
You can order today and download to your portable phones, tablets etc. from most places in the world! With the proper app it is compatible for most Apple, Android phones and readers as well as the range of Kindle readers.
JUST $4.99US for a limited time. ORDER NOW
HINT: If you have been searching for that perfect gift for friends, loved ones and associates this is may just be the answer.