Ordering from the Cosmic Kitchen:
The Essential Guide to Powerful, Nourishing Affirmations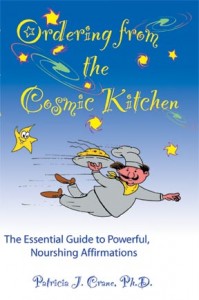 Imagine that the Universe is like a Cosmic Kitchen with an Infinite Menu, just waiting to take and fulfill YOUR orders!
When you learn how to create and use powerful positive affirmations, your life will improve in every area: relationships, health, self-esteem, career, and finances. In Patricia's book, you'll discover how to use the Law of Attraction to attract more prosperity, the love relationship you want (or improve the one you're in) and anything else you desire in life.
Learn how to create:
Your Successful Career
Increased Prosperity
Rewarding Relationships
Health and Vitality
Travel Adventures
…and Your Perfect Home
Listen to an Audio Introduction from Patricia.
Discover how your thoughts, together with words and FEELINGS are the most powerful combination for achieving your dreams.
Learn why the Cosmic Kitchen sometimes gives you lemons, and what to do when that happens. Plus, find out how YOUR thoughts and words can help heal the planet.
The frequently asked questions (FAQs) listed below will give you a a glimpse of the power of affirmations and what Ordering from the Cosmic Kitchen can do to help you improve your life in many ways…
What are affirmations and how do I create them?
Can I use affirmations to create a new career?
Do you have examples for affirmations to make more money?
How about self-esteem? Can affirmations help to improve my self-esteem?
Do you have example affirmations for better health?
What affirmations can I use to attract better relationships into my life?
Can you show me some affirmations that will help me lose weight?
In twelve easy, fun, and entertaining chapters you will learn to change limiting beliefs from childhood, read Cosmic Kitchen success stories from people just like you, and get instructions on how to order up the delicious life you want and DESERVE.
RAVE REVIEWS for the Cosmic Kitchen!
"If you're ready to lovingly nurture yourself with positive affirmations, here's the book for you."
-Mark Victor Hansen
Co-creator, #1 New York Times best-selling series Chicken Soup for the Soul ®
Patricia's book has received all 5 star reviews on amazon.com!

FIVE STAR STANDING OVATIONS!!! 
Ordering from the Cosmic Kitchen
Reviewer: Elizabeth S, Reaves from Las Vegas, NV
I am a Personal Growth Consultant who teaches workshops for self healing and I have a private practice. MY CLIENTS LOVE THIS BOOK! The personal stories which Dr.Crane has cultivated from her clients and friends are enlightening, fun and poignant. Her techniques for applying the use of positive affirmations are very effective and for the willing reader easy to put into practice. I highly recommend this book for those who feel "stuck" and are looking for a refreshing and fun way to change their lives for the better. I will continue to recommend this book to my clients and friends.
Ordering From The Cosmic Kitchen
Reviewer: Mrs Anita M Ritchie from Ilford, Essex United Kingdom
This book is heading for the best seller listings. It is simple, practical, and can be used daily. If you want a nutritionally balanced life then read this book.